OUR FOUNDER: Over 40 years ago, Walter Axelson started his hobby that grew and grew until today it now fills half a warehouse and display area. His lapidary began with cabochons, then faceting, then his true passion, spheres. Once he started making spheres he turned into a real rockhound. He traveled with his wife Leona, in their motor home, all over the United States, Canada and Mexico. They brought back rock from almost every state.

On December 12, 2010, Walter passed away in his sleep. He was 95 years old. He was working on a sphere just 3 days before his death. This only goes to prove what a wonderful, life long hobby working with rocks can be. His mantra was, "I don't think I'll ever live long enough to get all my projects finished". We all should feel this way at 95. His presence is felt in the shop with all his beautiful spheres and his large collection of rocks, crystals, and glass that are displayed.

Fortunately, Walter lived long enough to see his daughter, Audrey, fall in love with his hobby. With her Father's encouragement, a year before his passing, Audrey began organizing and learning about the wonderful world of her Father's hobby. Unfortunately, Walter did not live long enough to see his son-in-law, Audrey's husband, Fletcher become involved in Ye Olde Rock Shoppe in Hollywood. He would have been pleasantly surprised.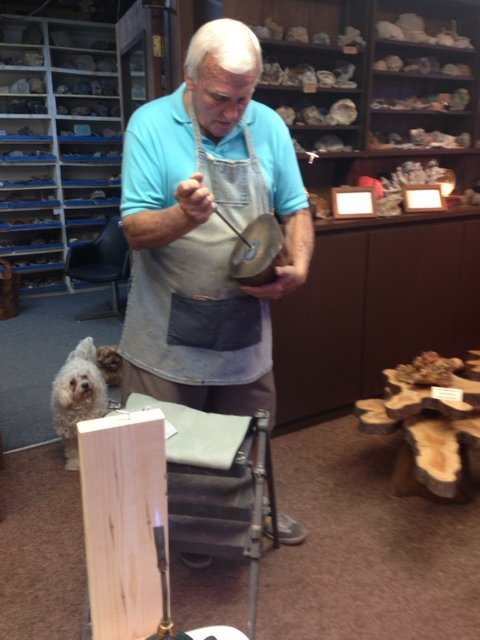 OUR GOALS: Always keeping in mind Walter's love for the art of lapidary, we are trying to excite everyone with the many avenues a collection or hobby can take. Fletcher, with his talent of working with wood, has stretched our imagination with different kinds of lighting for collection, frames showing off slabs that may have been overlooked, Florida Cypress tables, oak lazy Susans, along with cypress knees as table top displays. He keeps coming up with new ideas and combinations. We have tried to use all aspects of nature in combination with spheres, glass, crystals and fossils. Our goal is to have your pieces displayed to show them off, as well as making them a pleasing piece of art work. As you look through our site you will see the many different kinds of combination.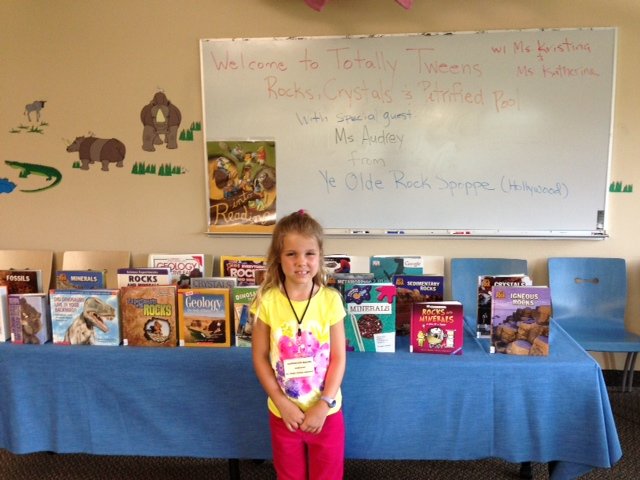 OUR OBJECTIVES:
Our major objective is to open the doors of rocks and minerals to children as well as new comers to the field. We have items for every budget, allowing everyone to be able to find their special item. We make it our goal to help you or your child learn to love the beauty that can be seen in rocks and minerals.
Our company also tries to help the community. We have the South Florida Gem and Mineral Society meet at our shop once a month, we speak to museums and libraries about the different areas of rocks, minerals and fossils. We also encourage clubs and school classes to come and attend a lecture and investigate the different areas that are represented in the shop. We try to assist those who have inherited a collection and do not know how to dispose of it. Also, we try to encourage those who come in to investigate all the possibilities there are to make "rocks, minerals, crystals or fossils" their hobby. Ye Old Rock Shoppe is a place to allow your imagination to go wild. Once you are hooked, you will want to share your passion with everyone.
We also try to keep adding new pieces to our collection. We listen to you the customer and try to find what you are interested in. In fact, we have a "Wish List" for our customers, they put what they are looking for on it and we try to find it for them.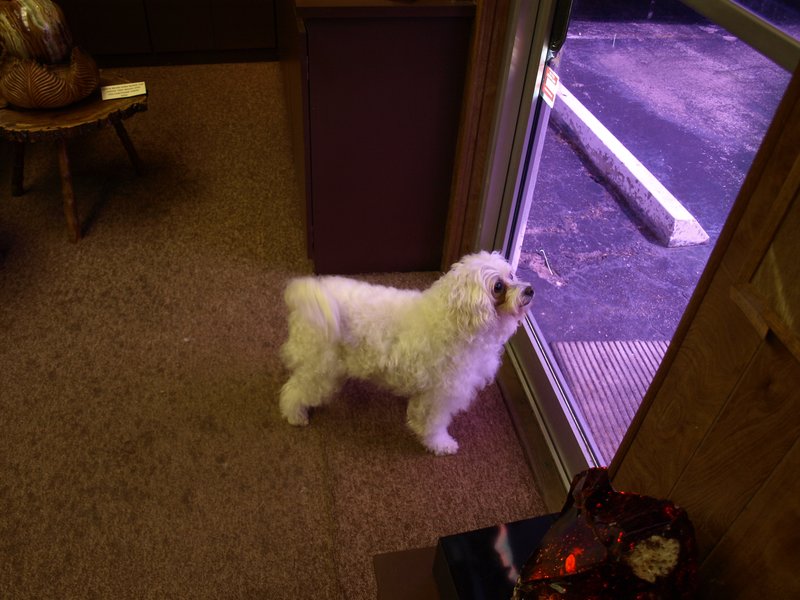 So now we have gone from a web site to a web store hoping to make it easier for you to obtain your choices. But our greeter, "Angel" will still be looking forward to you dropping into the shop, when you are in the area.
Happy Shopping
.